Joshua Stewart, Licensed Massage Therapist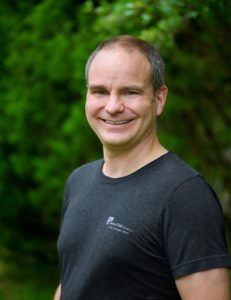 Josh is a native Chicagoan that majored in music at Illinois State University before moving to Los Angeles to work as a project manager and producer for EMI Music in 1998. In 2006, he moved to Austin where he met his soul mate Tara the first night he arrived. After dating for 18 months they married, and now have 3 children (2 young boys, and a teenage daughter).
After they became pregnant with their first boy, Josh wanted to find a career that would be flexible enough to allow him to stay home with the baby during the days while his wife was at work, then work nights and weekends while his wife was home with the kids. He decided to attend The Lauterstein-Conway School of Massage here in Austin. He consistently ranked at the top of his class and excelled in anatomy and physiology. After graduating in 2008, he got took a position at Massage Envy (Westlake) where he worked for 3+ years, getting more than 3500 hours of table experience. In 2012 Josh was hired as a massage therapist at the nationally renowned Lake Austin Spa. After only 5 months he was promoted to lead therapist and supervisor, and just recently left there to join our team here at Family First Chiropractic at the beginning of January.
Josh is trained in multiple modalities of massage including Deep Tissue, Trigger Point Therapy, Myofascial Release Therapy, Swedish, Hydrotherapies, Hot Rock, Bamboo Fusion, Thai, Ayurveda, Tibetan Bowl, Myo-fascial cupping, and Chair Massage….
Josh's philosophy when it comes to massage and bodywork is that it must be a partnership between the giver and the receiver. Massage is a form of communication between the therapist and the client's nervous system. A therapist cannot force change on the receiver's body. His job is to be able to listen to what that body is saying and communicate with that nervous system in a way to help it to facilitate the change we're trying to accomplish.
Josh is excited for this new opportunity to join the Family First Chiropractic team, and is looking forward to getting to get to know everyone in this wonderful community.